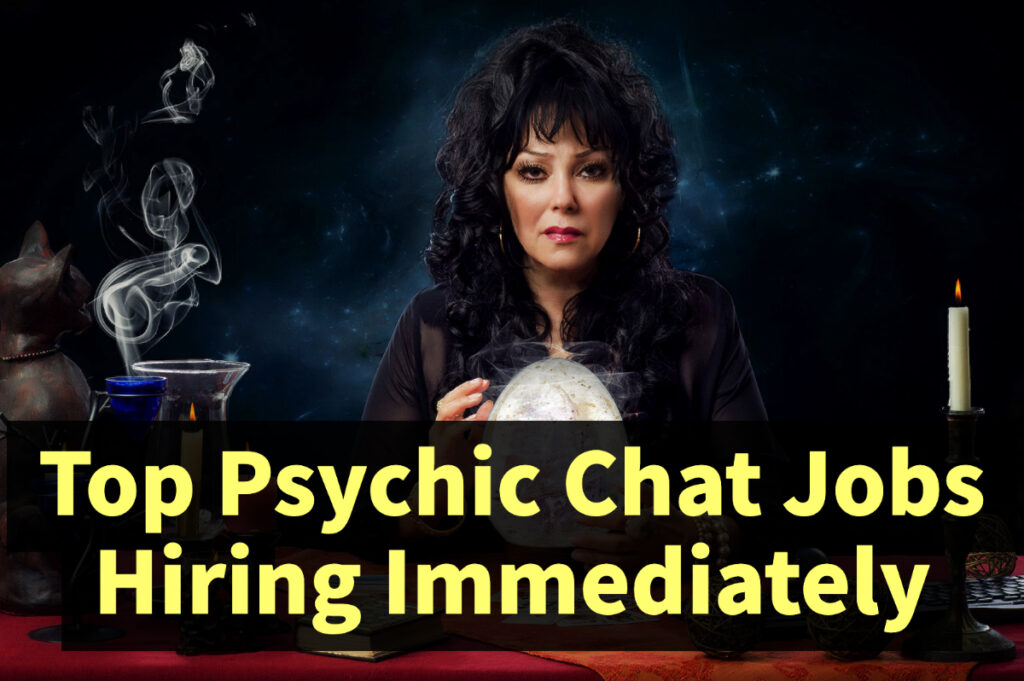 Are you an expert psychic and looking to expand you reach to the worldwide customers? This blog post is specially for you. Even if you are working in a traditional brick and mortar shop and want to earn more then you should start exploring top psychics sites and apps to join.
How COVID-19 Has Changed The Way We Psychic Advisors Work?
Do you remember the Covid-19 pandemic and the aftermath of it's spread? During lockdown most of the psychic shops were shutdown completely and a number of psychic advisors from across the globe lost earnings and even struggle to survive. That was the time when online psychic sites and psychic apps came to rescue and thanks to these top psychic sites and apps many of these psychics not only survived financially but also thrived after that.
Work From Home Psychic Jobs
It has not become a norm for psychics from around the world to work from home on various psychic jobs. I read somewhere that after COVID-19 pandemic, 90% of psychic advisors have decided to not to return to their brick and mortar psychic shop and kept on working on online psychic sites or psychic apps.
In this blog post I'm going to list all the best and top psychic job sites which are hiring immediately.
1. Live Psychic Chat

Live Psychic Chat (LPC) is one of the best psychic site when it comes to psychic advisors who want to get hired immediately and start earning insanely. LPC Are not the employer so you need to understand that it is not a job as such but you will be joining their marketplace. LPC is a marketplace which connects psychic readers to customers.
Benefits Of Joining Live Psychic Chat App
It is one of the best psychic site which I've joined. They have massive traffic, loyal customers and great earning potential. Since it is a marketplace you don't have any restrictions on how many hours you have to work daily or when you have to login. You can login any time and work as much as you wish.
Another great feature of LPC is that you can cash out instantly and as many times even on a single day as you wish, minimum $100 balance is required to cash out. You can cash out directly in your bank account or via Paypal. Cash out to bank account is free, there is small charge of $4.99 for cash out via Paypal.
How To Join Live Psychic Chat App?
Step 1 – Prerequisite and Instructions
Visit Psychic Jobs page and read all the instructions
Step 2
Click on Apply button at the bottom or on Job Seeker Login from the top navigation and create a job seeker account from there.
Step 3 – Fill up your details
On this step you have fill up your personal details, work experience, upload your profile photo and other details.
Step 4 – Apply
After filling up the details click on Submit Application button. Once your application is submitted, you will have to wait for them to approve your application.
Step 5 – Approval and further steps
After approval there are few more steps such as reading the manual, accepting job terms and taking a test which is based on the manual. Once you have passed the test you will be automatically live.
Step 6 – Live
Once you are live you can then login on the Live Psychic Chat iPhone App or Android app or even on the Web App and start working.
Important
Use your real first name as this psychic site is strict with names. Unlike other psychic sties they don't allow fake names. If your first name is taken then you can use your middle name initials or your first name and last name.
You should have experience on working on other sites. If you don't have any online experience then contact them first before proceeding with application.
Don't forget to update your payment details from Earning Tabs.
How To Give Psychic Readings To Customers
You can give readings to customers via following ways
Messages
Live chat
Phone
Video Chat
All of above methods use App to app chat/phone/video. You don't have to give your personal phone number as it is app to app phone/video calls.
Work From Anywhere, Web App, iPhone App or Android App
You can work from any or all of the following apps
Web App
iPhone/iOS App
Android App
The same login will work from all apps.
Useful Tips
I normally use Web App to reply top messages and for live chat as it is quicker and more productive.
Earning Potential
There is no limit on how much you can earn on LPC. It is entirely up to you to make as much as you want.
I normally make US$8,000-10,000 per month.
Cash Out
Directly to Bank Account
Paypal
Minimum cash out balance required is US$100
Instant payment subjected to approval
---
2. Psychics.lv

Psychics is another psychic site which is hiring immediately. They are relatively new psychic site but you will have more exposure to customers as it is less crowded. They also have iPhone App and Android App.
You can connect with customers on Web App, iPhone App or Android app.
How To Join psychics.lv site?
Visit Psychics.lv Jobs page, read the instructions and click on Apply button to start your job application.
Just follow the instructions and keep logging in as Job Seeker till you are hired.
Once you are hired you can login on web or mobile app to start working.
Earning Potential
US$1k-2k per month
Cash Out
Minimum balance US$100
Bank account or Paypal
---
3. Psychic Sutra

Psychic Sutra is a web app and Android app. They don't have iPhone app. If you prefer to work on iPhone only then this site is not for you. You can always use web app though from your PC/Laptops to work.
How to Join Psychic Sutra Site?
Visit Psychic Sutra Jobs page, read the instructions and follow the steps after joining as Job Seeker.
You will get login details by email after you are accepted.
Earning Potential
US$1k-2k per month.
Cash out
Directly to the Bank Account or via Paypal
Warning!
Do not reveal your personal contact details or social media handles to customers or ask them for their contact details on any of the above psychic sites mentioned. If you do so then you will be immediately blocked.
---
Suggest a Psychic Job Site
If you know and have worked on any other great psychic sites which are hiring immediately then you can suggest it to me via comment box below.